Smart Option Credit Card
Our lowest available interest rate and no annual fee
Do more with lower interest
Our smart option credit card puts you in charge. Consolidate your credit with low interest, no annual fee and added protection wherever you make purchases.
Forget the fees
Pay no annual fee and get our lowest interest rate.
Balance transfer
Use our introductory offer on balance transfers to consolidate your debt.
Smart Option Card Benefits
Big purchases, smart options
Manage your spending or consolidate higher interest rate balances on our lowest-rate, no fee credit card.
Take advantage of great credit card benefits like cell phone protection and roadside assistance

D



Manage your account through Digital Banking
Pay no annual fee with this low-interest-rate credit card
Is a credit card balance transfer worth it? See how much you can save.
Low-Interest Card Details
Card details and transaction fees
Balance transfers
0% introductory APRD for the first 12 monthsD on balance transfers, then variable purchase rate of 14.24% to 23.24% based on creditworthiness applies
Purchase rate
Variable 14.24% to 23.24% APR based on creditworthiness
Cash advances
Variable 26.24% to 29.24% APR based on creditworthiness; each transaction is subject to a 5% fee (minimum $10)
Annual fee
$0 with this no-fee credit card
Pay with your phone
Add your cards to your mobile device and pay securely with Digital Wallet.
Pay your bills
Automate your bill payments with Digital Banking for extra peace of mind.
Not quite sure? Answer a few questions to find the right credit card for you.
Manage Your Cards
Access any of our card services from your phone
Temporarily lock your card
Report a lost or stolen card
Notify us if you're traveling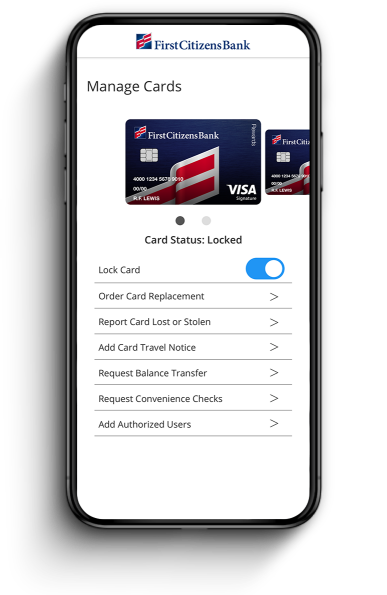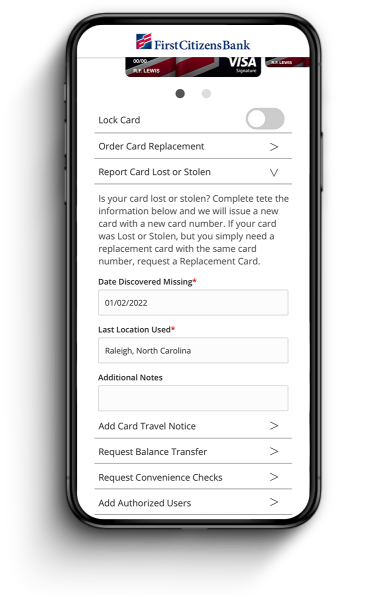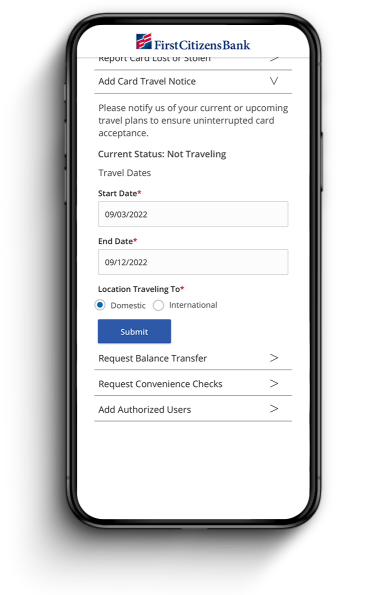 Manage Your Cards
Access any of our card services from your phone
Temporarily lock your card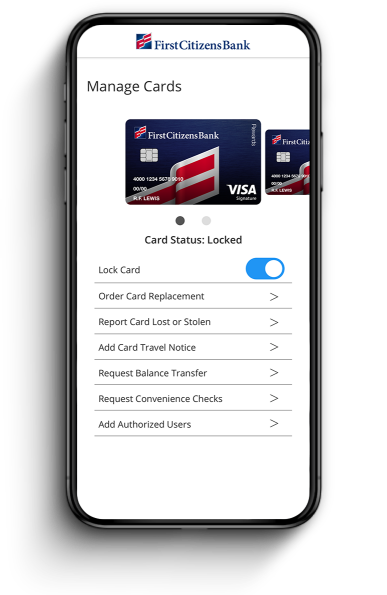 Manage Your Cards
Access any of our card services from your phone
Report a lost or stolen card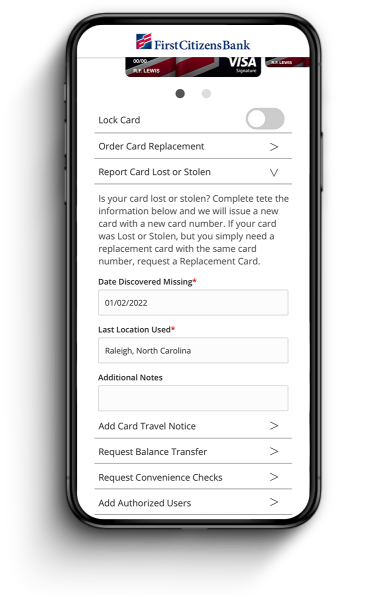 Manage Your Cards
Access any of our card services from your phone
Notify us if you're traveling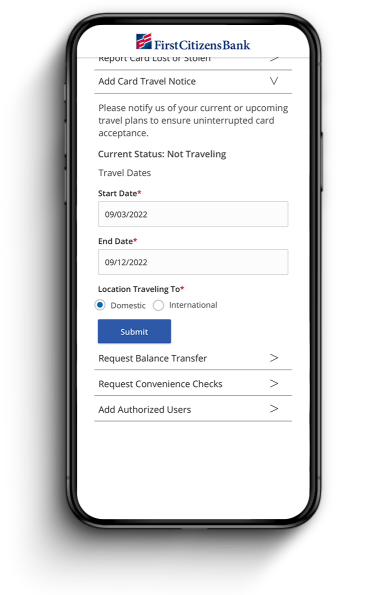 Repair or replace your phone for free
Enroll automatically when you pay your cell phone bill with your First Citizens credit card.
Fast access to funds for your remodel project
A quick and easy application process to remodel without using your home as collateral.
There are several reasons you might choose a low-interest credit card. Chief among them, of course, is the lower interest rate. Having a card with a lower rate means you pay less interest, which is especially helpful if you happen to carry a balance from one month to the next.
Lower interest can also be a boon if you're looking to consolidate your debt. If you have credit cards with higher rates, you can transfer those balances to a low-interest credit card and pay it off as a single debt. This approach can help you pay off your debt faster because you'll only be accruing interest on the lower-rate card, rather than one or more higher-rate cards.
Lastly, you might prefer a low-interest credit card if you don't want or use credit card rewards. Higher-rate cards often offer rewards programs, where you earn points based on your spending. But if these programs aren't important to you—or if you forget to redeem your rewards—that higher-rate card might not be worth the cost. In those cases, a lower-rate card could be a better fit.
Low-interest credit cards work much the same as other credit cards. Having a card gives you access to a line of credit that you can use to make purchases, pay bills and transfer balances. Each month, you receive a bill for what you've spent with a required minimum payment. If you don't want to accrue any interest, aim to pay off your balance in full each month. Otherwise, you'll accrue interest on the remaining balance based on your annual percentage rate, or APR.
With our Smart Option credit card, not only do you enjoy a lower APR, but you also get great benefits and the same digital functionality as our other credit cards. Plus, you can use it anywhere Visa® is accepted worldwide.
When you apply, your interest rate is determined based on your credit quality and history. If you're aiming for our lowest APR range, you can work to improve your credit before applying. Reviewing the 5 Cs of credit can help you see how your application might look to a lender.
Yes. If you've set a goal to build or rebuild your credit, managing a low-interest credit card can help you get there.
To help build good credit, use your credit card regularly and make all your payments on time. You'll also want to keep an eye on your credit utilization and aim to use 30% or less of your card's credit limit.
Long-standing accounts reflect positively on your credit report, which in turn helps rebuild your credit. When managed properly, a low-interest credit card can be a valuable part of your credit-building strategy.
No. However, anyone can rebuild credit after filing for bankruptcy, though it may take time to qualify for preferred cards and rates. Depending on the type of bankruptcy you filed, it can take up to 7 years to qualify.
First Citizens is here to help, and we invite you to visit your local branch to discuss other opportunities that may meet your needs based on your individual circumstances.
Yes. A low-interest credit card can be a good option for students looking to establish credit history. Students may also benefit from having a small-limit credit card to help cover emergencies while they're away from home.
Along with using a credit card responsibly, students can follow these key strategies to help them build credit.
Make sure to pay your bills on time each month. Payment history is the single biggest factor affecting your credit, accounting for around 35% of your FICO® score.
Watch your credit utilization. This is the amount of total credit you use as a percentage of your credit limit, and it accounts for about 30% of your FICO score.
Consider programs that include other types of payment history in your credit score. It might be worthwhile to sign up for programs like Experian Boost, a free program that counts your payments from a linked checking account you use to pay your utilities, cell phone and streaming media plans.
Be patient. It takes time to build or rebuild your credit history, and being consistent will lead to the best results.
Insights
A few financial insights for your life
APR (annual percentage rate). The Prime Rate used to determine your APR is the Prime Rate as published in The Wall Street Journal on the last business day of the preceding calendar month. The current Prime Rate as of December 30, 2022, is 7.50% and may vary in the future. The transaction fee for cash advances is $10 or 5% of the amount of the cash advance, whichever is greater. The transaction fee for foreign transactions is 3% (0% for Travel Rewards) of each transaction after conversion to US dollars.
Balance transfer must occur within the first 90 days of account opening to qualify for the 0% APR (annual percentage rate) introductory offer and will be subject to a balance transfer fee of $5 or 3% of the amount of each transfer, whichever is greater. After the 12 billing cycle period, your APR will default to your purchase APR.
Links to third-party websites may have a privacy policy different from First Citizens Bank and may provide less security than this website. First Citizens Bank and its affiliates are not responsible for the products, services and content on any third-party website.
Bank deposit products are offered by First Citizens Bank. Member FDIC and an Equal Housing Lender. icon: sys-ehl.