Mortgage Refinancing
Enjoy new rates and terms on your outstanding balance
Take advantage of home refinancing benefits
Do you want to make home improvements? Are you seeking capital to invest in your business or your child's college fund? Maybe you'd like to lower your mortgage payment or shorten your loan term. These are just some of the possibilities when you refinance your home loan.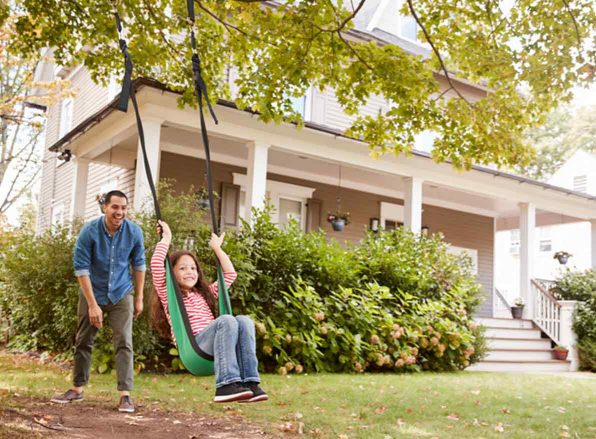 Lower monthly payments
Lower your payments and potentially pay less interest with better mortgage refinance rates.
Unlock your equity
Consolidate debt or pay for a home improvement with mortgage refinancing.
Change your term
Shorten or lengthen your repayment schedule with a home refinance.
Get started with refinancing today
Application Requirements
Qualify for mortgage refinancing
Create an account in our online application platform. Here's what you'll need to apply for mortgage refinancing.
Social Security number
Employer contact information
Estimated income, assets and liabilities
Details on the property you're interested in buying
Home Refinancing Benefits
Make a smart move for your money
Pay off your mortgage faster
Refinancing can lower your interest rate or shorten your term to make it easier to pay off your mortgage early.
Consolidate debts
By rolling other debts into your mortgage refinancing, you can lock in one interest rate for paying off all of them.
Gain stability
Convert your adjustable-rate mortgage to a fixed-rate mortgage with a short term and potentially end up paying less.
How to get started
Ready to apply for mortgage refinancing? Begin your journey to a new and improved home loan here.
Assess your refinance readiness
Contact a mortgage advisor to assess your readiness. Discuss terms, pricing, options, payments and costs to refinance. We can help you find a mortgage banker.
Apply for mortgage refinancing
You can use our online platform to apply and submit supporting documentation that will be used to process your application.
Processing your application
Underwriting will process your loan application and review your documentation. Provide answers to questions and additional documentation as requested.
Close on your refinanced mortgage
You'll receive your closing date and meet with your lender and closing attorney to close on your refinanced mortgage.
Get guidance through the home financing process. We're here to help.
Curious about your mortgage rate? See if it's time to refinance.
Keep your home and your family safe
Get the right homeowners insurance to meet your family's needs.
Home Equity Line of Credit
Put your home's equity to work
Tap into your home's equity for your next big purchase or renovation project.
Mortgage Refinancing FAQ
People often ask us
Refinancing a mortgage occurs when a borrower applies for a new mortgage, usually at a lower interest rate. The newly approved mortgage loan replaces the first home loan.
Refinancing a mortgage can offer several benefits:
Lower interest rate
Lower monthly mortgage payment
Shorter mortgage repayment term
Utilizing home equity
Switching from an adjustable rate to a fixed rate
Contact your mortgage lender or banker to determine if refinancing a mortgage is right for you.
Yes. You can refinance an adjustable-rate mortgage and switch to the certainty of a fixed-rate mortgage to take advantage of favorable initial rates that may be available with an adjustable-rate mortgage. You can also choose to switch out from a fixed-rate mortgage to take advantage of favorable initial rates that may be available with an adjustable-rate mortgage.
If you're interested in refinancing your mortgage, talk to a mortgage banker about your options.
A standard refinance doesn't provide you with access to cash from your home's equity. However, a cash-out refinance replaces your existing loan with a larger one. The larger loan allows you to access cash from your home's equity, and the cash received can be used for any purpose.
Yes. In some instances, refinancing your home loan can eliminate the need for mortgage insurance if increased home value or lowered loan payments reduce the principle and increase your home equity to 20% or more.
Yes. A mortgage refinance can help you pay off your home faster. Refinancing to a shorter term or a lower interest rate—or both—could reduce the term of the loan.
Yes. A home refinance can help improve your budget each month. If interest rates have declined, a rate-and-term refinance can provide a lower payment, resulting in money you can add back to your monthly budget.
Yes. You can take equity out of your house without refinancing your mortgage. A home equity line of credit, or HELOC, allows you to take equity out of your home without disrupting your current mortgage.
Additionally, a home equity loan is another great way to access your home equity without refinancing.
Insights
A few financial insights for your life
Normal credit approval applies.
Not applicable in all states.
Links to third-party websites may have a privacy policy different from First Citizens Bank and may provide less security than this website. First Citizens Bank and its affiliates are not responsible for the products, services and content on any third-party website.
Bank deposit products are offered by First Citizens Bank. Member FDIC and an Equal Housing Lender. icon: sys-ehl.