Treasury Management Services
Your personalized treasury management solutions
Manage your cash flow more effectively
Every day, our experienced professionals deliver personalized treasury management solutions to meet your unique challenges and goals. Choose from a variety of tools, advice and services to achieve your objectives.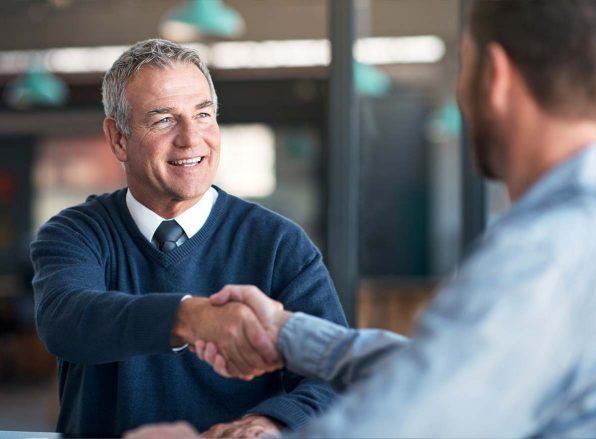 Receivables
Optimize your cash flow by simplifying account receivables with traditional or electronic methods.
Collect payments quickly and securely
Recover 100% of the amount for bad checks
Accept online bill payments from anywhere, anytime
Payment Acceptance
Get payment processing services tailored to how you do business.
Expand your customers' payment options and streamline your operations
Access transactions and reports in real time
Leverage sales-level data to reinforce marketing, operations and staffing decisions
Payables
Keep your business moving forward by streamlining processes, expenses and transactions.
Deposit funds faster with our ACH services
Simply invoice processing with integrated payments
Accurately forecast and manage your daily cash requirements with controlled disbursement
Zero Balance Accounts
Money that works for your business.
Eliminate manual transfers between accounts
Maintain separate accounts for internal auditing and accounting
Maintain balances in a single account for efficient utilization

ACH Services
Keep employees and customers happy with swift, secure electronic deposits.
Make deposits easy and seamless
Cut costs associated with checks and postage
Keep transactions secure
Purchasing Card
Simplify business purchases, reduce paperwork and monitor expenses.
Set your spending controls

Reduce administrative costs
Analyze spending with online reporting tools
Fraud Prevention
Implement the latest fraud prevention tools to protect your business accounts against suspicious activity.
Protect your business accounts from electronic fraud
Shield your business from check fraud
Detect suspicious check activity
Information Management Services
Our secure products and services help digitally manage your business data.
Efficiently manage your business
Improve accounting and reconciliation accuracy
Securely exchange electronic data files
Reporting and Reconciliation
View collections, payments and other details in a way that's designed to suit your needs.
Automatically reconcile all checks paid against your First Citizens account
Search and sort your canceled checks
Easily and securely trade electronic files
Liquidity Management
Put idle funds to work for your business in interest-bearing accounts and invest, minimize interest or pay down debt.
Automatically invest available cash balances
Keep excess cash in your business checking account working around the clock
Maximize your interest income by sweeping

D

funds from your checking account into an overnight investment vehicle
We're here to help with your treasury management needs
Digital Banking
Commercial Advantage
Accurately track cash flow
Manage your business on the go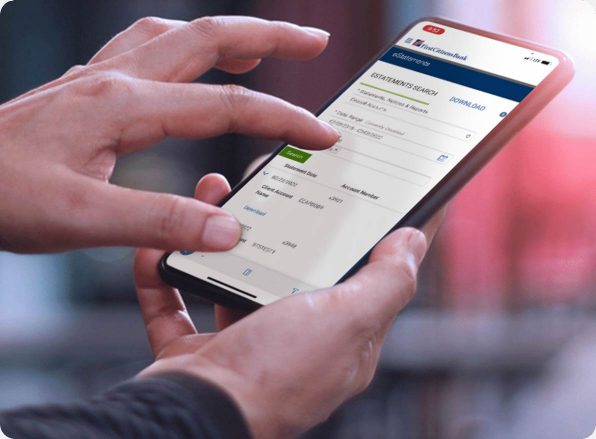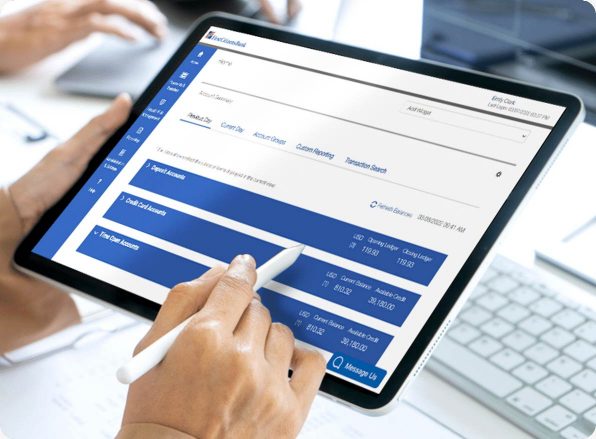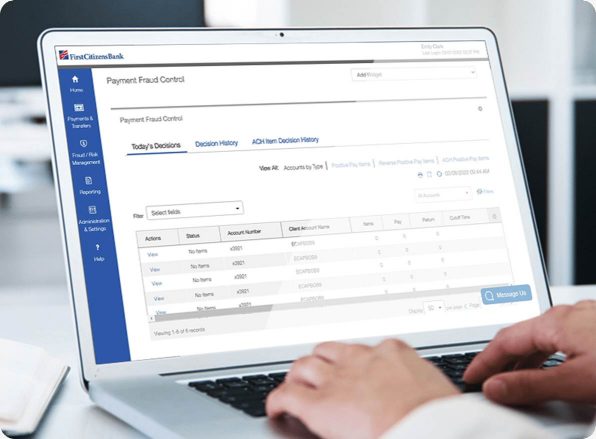 Digital Banking
Commercial Advantage
Accurately track cash flow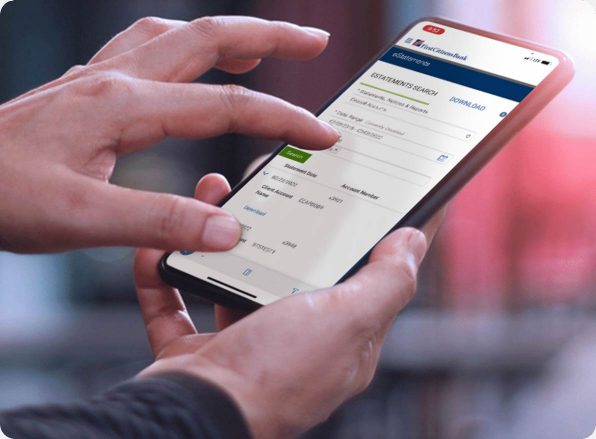 Digital Banking
Commercial Advantage
Manage your business on the go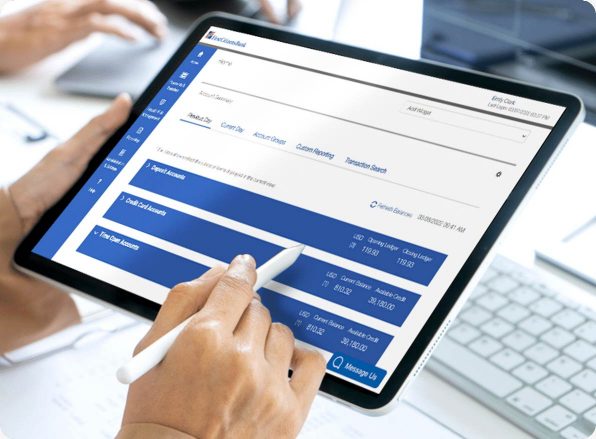 Digital Banking
Commercial Advantage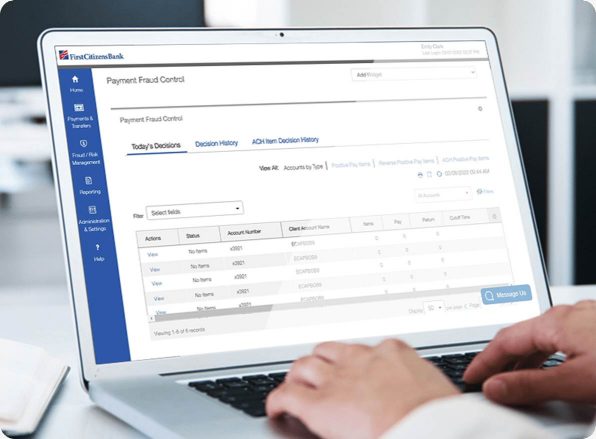 Treasury Management FAQ
People often ask us
Treasury management services are customized tools and solutions that help you streamline your daily operations, simplify your financial processes, protect your bottom line and optimize your liquidity. With treasury management services, you can manage your cash flow conveniently and effectively with up-to-date digital solutions and world class service.
Types of treasury management services include:
Accounts receivable solutions
Payment acceptance technology
Accounts payable solutions
Zero balance accounts
ACH electronic services
Purchasing cards
Fraud prevention
Information management services
Reporting and reconciliation
Liquidity management
You can use treasury management services for a variety of benefits, including:
Streamline accounts receivables
Simplify customer payments
Collect outstanding invoices more efficiently
Automate accounts payables
Strategize payments
Provide more comprehensive, more timely reporting
Mitigate fraud risk
Automatically invest available cash balances to grow your business
Treasury Management Insights
Grow your business
Normal bank approval applies.
Your investments in securities, annuities and insurance are not insured by the FDIC or any other federal government agency and may lose value. They are not a deposit or other obligation of, or guaranteed by any bank or bank affiliate and are subject to investment risks, including possible loss of the principal amount invested. Past performance does not guarantee future results.
First Citizens Wealth Management is a registered trademark of First Citizens BancShares, Inc. First Citizens Wealth Management products and services are offered by First-Citizens Bank & Trust Company, Member FDIC, Equal Housing Lender; First Citizens Investor Services, Inc., Member FINRA and SIPC, an SEC-registered broker-dealer and investment advisor; and First Citizens Asset Management, Inc., an SEC-registered investment advisor.
Brokerage and investment advisory services are offered through First Citizens Investor Services, Inc., Member FINRA and SIPC. First Citizens Asset Management, Inc. provides investment advisory services.
See more about First Citizens Investor Services, Inc. and our investment professionals at FINRA BrokerCheck.
Links to third-party websites may have a privacy policy different from First Citizens Bank and may provide less security than this website. First Citizens Bank and its affiliates are not responsible for the products, services and content on any third-party website.
Bank deposit products are offered by First Citizens Bank. Member FDIC and an Equal Housing Lender. icon: sys-ehl.