Community Association Banking
Smart financial solutions for your community association needs
Your community association banking experts
We deliver individualized service, customized technology, smart savings solutions and operational efficiency for community association management companies and their homeowners associations.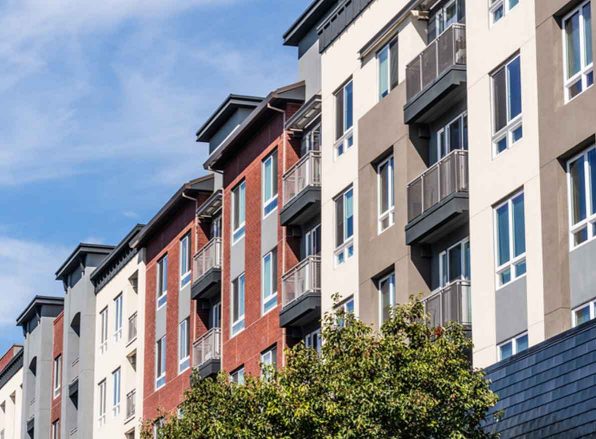 Valuable solutions
Choose from a broad suite of banking solutions to help meet your growth goals.
National reach
We're an experienced industry leader with national scale and dedicated regional presence.
Client-focused
We stand by our commitment to service excellence, every step of the way.
Connect with a dedicated community association banking expert
Ready to learn more about our HOA solutions?
Deposit & Reserve Solutions
Put your deposits and reserves to work
Secure your community association management company and HOA banking deposits with CDs, checking, money market accounts, sweep accounts and more.
We also offer FDIC-protected solutions, including: CDARS®, the Certificate of Deposit Account Registry Service® and ICS®, the IntraFi® Cash Service℠.D
Safely and effectively manage and grow your deposits—including those over $250,000
Deal with one financial institution that can easily serve all your HOA banking needs
Gain security knowing your funds are protected
Get flexibility to access funds when you need them
Take advantage of direct support from our team of reserve consultants
HOA Lending Solutions
Take your community to the next level
We have the financing solutions you need to add a clubhouse, pool, community center or playground, or to improve structures and roads. Our experts will walk you through all the options and guide you to the best solution for your unique situation. We're by your side at every step.
Financial expertise
Our experienced community association lenders will meet with your board members, attend community meetings and explain financing solutions.
Lending solutions
We offer several HOA lending solutions including standard term loans, revolving lines of credit and quick-term HOA loans.
Fast approval
Your turnaround time could be as quick as 3 to 5 days for revolving credit and quick term or 10 to 12 business days for standard-term HOA loans.D
Payment & Technology solutions
Simplify the way you pay
We put our strength and experience to work for our community association banking customers with our suite of digital solutions. These easy-to-use, agile tech products are used for payment processing, customer information, data management and more.
Property Pay
Residents and HOA members have access to our simple, easy-to-use payment system for association assessments, fees for amenities such as pool keys, access cards and common area rentals, as well as event fees and other payments. Property Pay saves time and maximizes efficiency for customers—and your back office.
Manager Pay
Reduce manual processes, get detailed data and create efficiencies for your property management company and the communities you serve.
First Citizens API Integrate
Integrate your banking and payment information with your accounting software system to get secure, quick access to all your data in one system.
Vendor Pay
Automate your payables process from invoice receipt to payment. Vendor Pay gives you real-time visibility into your payment stream and customized workflows, as well as the flexibility to use multiple payment options and integrate existing accounting software.
Lockbox
Our high-speed capture equipment quickly processes your lockbox payments. Plus, our team of payment experts validates exceptions, increasing the number of items processed.
Business Credit Solutions
A business credit card to help you stay on top
Save on interest with no annual fee. Manage your community association and HOA needs everywhere you go. Our First Citizens Business Visa® credit card helps reduce the risk of carrying cash and writing checks.
Community Association Banking FAQ
People often ask us
We have a team of experts across the US dedicated to the community association management industry. Our seasoned experts have more than 350 years of industry experience and are actively involved in the industry and their communities.
We understand each community comes with a unique set of individuals and requirements. We collaborate with you to ensure your association members, board of directors and employees have the tools to efficiently manage your communities.
We work with the majority of community association management software companies through our integration solution, First Citizens API Integrate. Please contact your Regional Account Executive to determine what integrations are available for your software.
As a leader in the industry, we listen to our clients and seek their input on the products and services they need. We strategically invest in technology solutions and work with you to ensure your community associations and board members have the tools to efficiently support their communities on a daily basis.
Yes. Property Pay is an easy-to-use, secure payment solution for association assessments and fees for amenities such as pool keys, access cards and common area rental, as well as event fees and other payments. Designed to improve the payment experience for your HOAs and their association members, Property Pay helps save time and maximize efficiency for them—and for your back office.
Community Association Banking Insights
Expand your knowledge
Account openings and credit are subject to normal bank approval.
Deposit placement through CDARS or ICS is subject to the terms, conditions and disclosures in applicable agreements. Although deposits are placed in increments that do not exceed the FDIC standard maximum deposit insurance amount (SMDIA) at any one destination bank, a depositor's balances at the institution that places deposits may exceed the SMDIA (e.g., before settlement for deposits or after settlement for withdrawals) or be uninsured (if the placing institution is not an insured bank). The depositor must make any necessary arrangements to protect such balances consistent with applicable law and must determine whether placement through CDARS or ICS satisfies any restrictions on its deposits. A list identifying IntraFi network banks appears at https://www.intrafi.com/network-banks. The depositor may exclude banks from eligibility to receive its funds. IntraFi, ICS, CDARS and Certificate of Deposit Account Registry Service are registered service marks of IntraFi Network, LLC. IntraFi Cash Service is a service mark of IntraFi Network, LLC.
CDARS Products:
Term offerings depend on the availability within the IntraFi network. Not all offerings may be available at all times. Rates subject to change. Offer subject to change.
Assumes loan package is complete and no additional information is needed.
Bank deposit products are offered by First Citizens Bank. Member FDIC and an Equal Housing Lender. icon: sys-ehl.