Credit Card Benefits
Our cardholders enjoy a wealth of benefits
Quickly find what you need below
Credit card benefits
Visa Cardholders
Benefits for all credit cards
When you open a First Citizens Visa® credit card, you're auto-enrolled in great benefits for your convenience and protection.D
Cell phone protection
When you pay your monthly wireless bill with your covered First Citizens credit card, your cell phone is protected for the next calendar month.D
Porch piracy protection
When you use your covered First Citizens account for your purchases, your new purchases can be protected against theft from your home or other location.D
Roadside assistance
Call on Roadside Dispatch® whenever you're in need of a tow. Assistance is available to eligible First Citizens credit cardholders 24/7 with no membership required.D
Identity protection
Your First Citizens credit card includes ID Navigator powered by NortonLifeLock, providing tools so you can act quickly if your identity is threatened.D
Special deals on dining, entertainment, shopping and more
Visa Signature Cardholders
Visa Signature credit card benefits
You're auto-enrolled in Signature benefits if your account has a credit line of $5,000 or more. Smart Option and Secured Cash Back cards are excluded from Signature enrollment.D
Rideshare protection
You're protected while traveling in a Rideshare vehicle, such as Uber or Lyft, when you pay for part or all of your fare with your covered First Citizens credit card.D
Trip delay reimbursement
With Trip Delay coverage, you can receive up to $300 when you're stuck for more than 12 hours due to a covered hazard.D
Auto rental collision damage
Rent a car with your covered First Citizens credit card and get built-in Auto Rental Coverage.D
Travel & emergency assistance services
Call anytime for Travel and Emergency Assistance, available for covered First Citizens credit cardholders from anywhere in the world.D
Convenient ways to pay
From contactless payments to digital wallets, you have more ways than ever to quickly, conveniently pay for your purchases.
Tap to pay and save time
Your credit card has contactless payment technology, which means you can tap to pay for purchases anywhere contactless is supported.

It's safe: Contactless helps keep your hands cleaner than exchanging cash or touching the terminal.
It's fast: Tapping your card to pay takes only a few seconds, making it quicker than swiping or inserting.
It's secure: Contactless payments use the same security as chip cards, generating a unique code for each transaction to help prevent fraud.
Look. Tap. Go.
At checkout, check for the contactless symbol
Tap your contactless card on the terminal
Your payment will be processed in seconds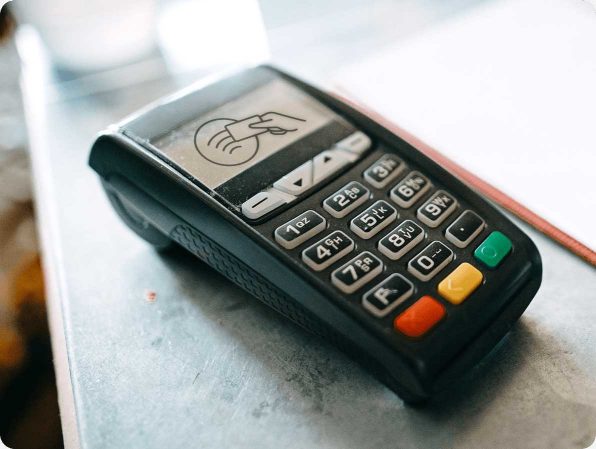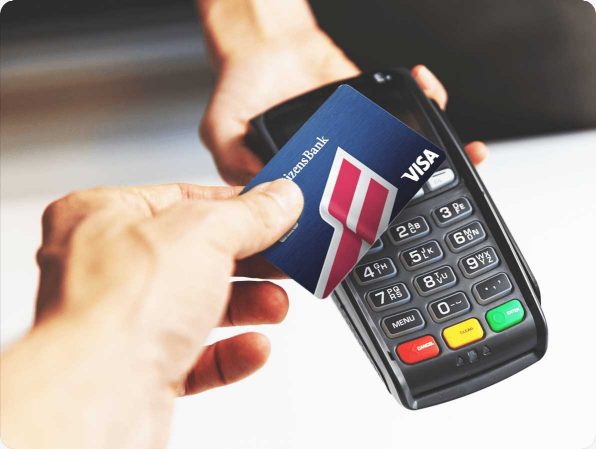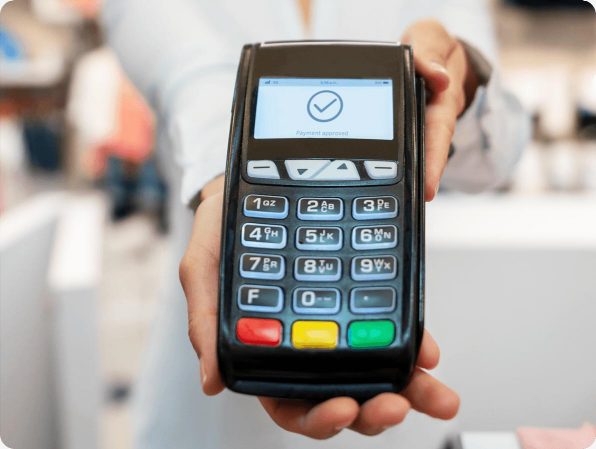 Look. Tap. Go.
At checkout, check for the contactless symbol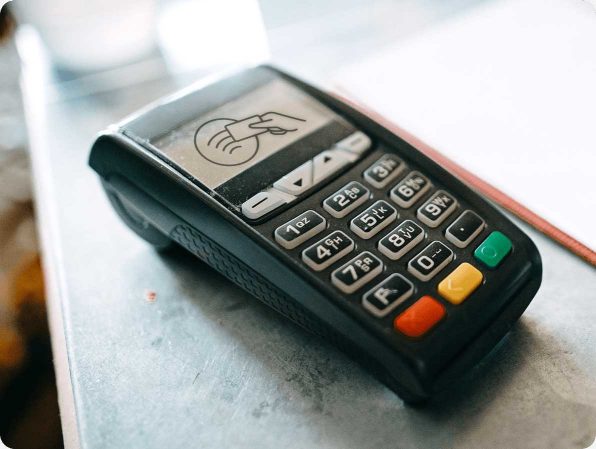 Look. Tap. Go.
Tap your contactless card on the terminal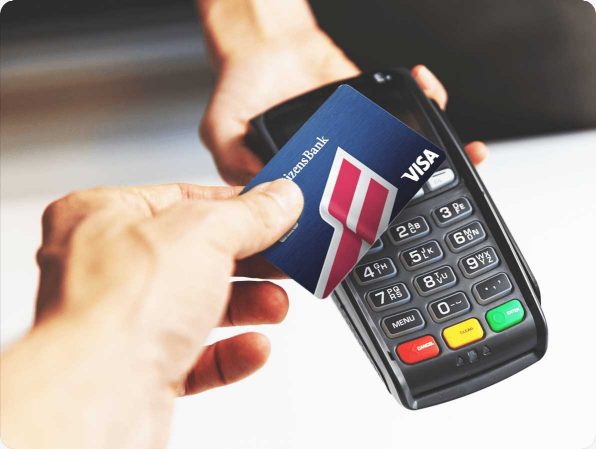 Look. Tap. Go.
Your payment will be processed in seconds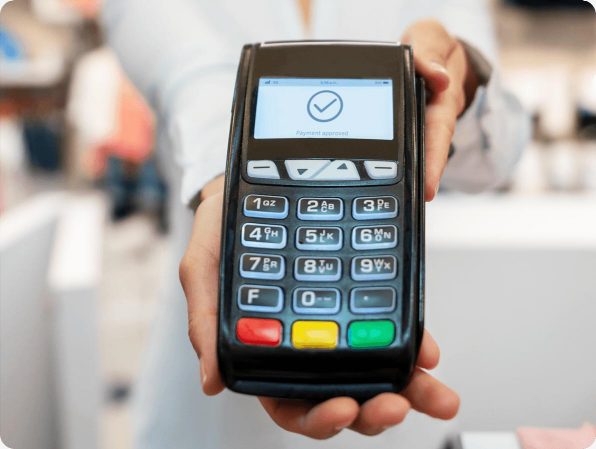 Use your mobile device to go cashless
Your smartphone's Digital Wallet is a fast and secure way to pay—and it works seamlessly with your First Citizens credit cards.
Fraud protection
Along with credit card benefits, First Citizens offers robust fraud protection services to help keep your cards and information safe.
Visa Zero Liability Policy
Protect your account from unauthorized transactions
The Visa Zero Liability PolicyD is a guarantee that you won't be held responsible for unauthorized charges made with your account or account information. You're protected if your Visa credit card is lost, stolen or fraudulently used, online or offline.
Set credit card alerts within Digital Banking
Get alerts for credit card transactions
Find out when your account number was used without a card present
Get payment due date reminders and balance alerts
Access any of our card services from your phone
Temporarily lock your credit card
Report a lost or stolen credit card
Notify us if you are traveling
Order a replacement
Add authorized users
Not quite sure? Answer a few questions to find the right credit card for you.
Is a credit card balance transfer worth it? See how much you can save.
Note: Customers must pay service provider for mileage over five miles. A secondary unit being towed behind isn't included but can be accommodated for an additional fee. Standard winching applies within 100 feet of paved or county maintained road only. Additional fees may apply for winching services under certain circumstances.
Additional terms: Service providers supplying emergency roadside assistance and towing are independent contractors and are solely liable for their services. Neither Visa nor First Citizens shall have any responsibility or liability in connection with the rendering of the service. Emergency roadside assistance and towing may not be available in areas not regularly traveled, nor in other off-road areas not accessible by ordinary towing vehicles. Weather conditions, time of day and availability of service may affect assistance responses. Expectations for dispatch are set with the customer on every call, and an expected estimated time of arrival is provided to the customer regardless of their location. However, neither Visa nor First Citizens provides any assurances as to the ability of the service provider to meet such estimates. You're responsible for any roadside assistance or towing charges incurred by facilities responding to your request even if you're not with your vehicle or your vehicle is gone upon their arrival. 24-hour roadside assistance services are provided by Cross Country Motor Club, Inc. d/b/a Agero, a Massachusetts corporation; and Cross Country Motor Club of California, Inc., a California corporation. Current fee for a standard service call is $69.95. Service call fees are subject to change at any time. However, callers will be notified prior to any service dispatch. This program may be discontinued at any time without prior notice. Program void where prohibited.
Links to third-party websites may have a privacy policy different from First Citizens Bank and may provide less security than this website. First Citizens Bank and its affiliates are not responsible for the products, services and content on any third-party website.
Bank deposit products are offered by First Citizens Bank. Member FDIC and an Equal Housing Lender. icon: sys-ehl.