ach receivables
Receive payments that are fast and secure
Flexible
Create single and recurring A/R receipts from ACH transactions.
Fewer Returns
Reduce the number of returned checks.
Get Paid Fast

Receive your payments faster and reduce float.
Convenience
Allow customers to quickly and easily make payments, providing convenience while reducing their costs.
Better forecasting
Improve cash outlook and create better cash flow.
Detailed reporting
Provide detailed reporting for any transaction returned or incorrect information sent.
Helpful resources
National ACH website
Get the latest news, events and education for all things ACH-related on Nacha.org.
Simplify your receipts
ACH Receivables is a secure and convenient way for your business or customers, in any industry,  to electronically receive bill payments.
Authorize
Obtain authorization from customers or employees to debit their account.
Process
We process drafts to the designated financial institution, debiting your customer's account.
Settle
We credit your account for the draft the day we receive the funds.
Business Digital Banking
Manage your business on the go
Manage your accounts from anywhere
Send and transfer money using ACH and wires
Receive account and security alerts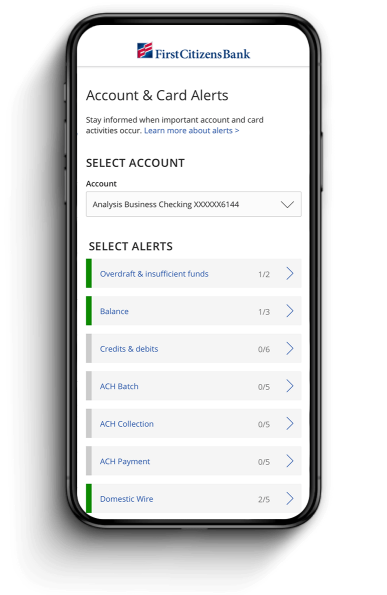 Business Digital Banking
Manage your business on the go
Manage your accounts from anywhere
Business Digital Banking
Manage your business on the go
Send and transfer money using ACH and wires
Business Digital Banking
Manage your business on the go
Receive account and security alerts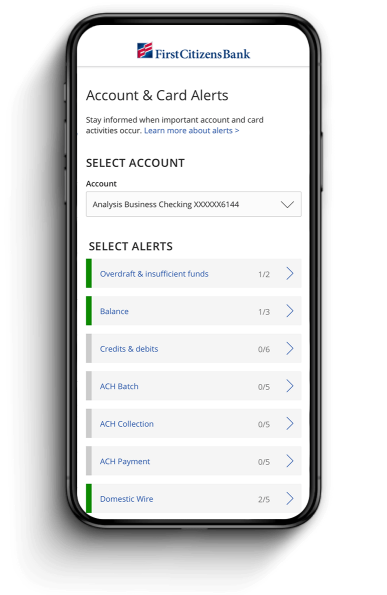 Deposit money from anywhere
Deposit checks remotely for faster processing and extended deposit hours.
Earn more from your business
Make business purchases count with bonus points.
You must receive authorization from your employees or customers to obtain the information needed to deposit funds into their checking and savings accounts for payroll, employee expense reimbursement, government benefits, taxes, other refunds, annuities and interest payments. Please reference the National ACH website (Section VII Appendices) for Sample Authorization for Direct Deposit through ACH (Credits) for more information.
The ACH Activity report provides details of transactions that have been returned to you with a reason for the return or Notifications of Change that require your attention. These reports are available for 65 business days for you to review. We encourage you to subscribe to the ACH Return or Notification of Change alert to receive an email when action is required by you.
You can submit an ACH transaction reversal using Commercial Advantage. An ACH reversal must be submitted within 5 days of the settlement date of the original erroneous transaction. To access the ACH reversal function, locate the erroneous transaction in the completed section on the ACH Summary page. Select View for the transaction. Detailed information for the selected transaction is displayed. A Reverse option will also display. To submit a reversal, choose Reverse. If you need additional assistance, select Inquire for the transaction. Enter your question and then Send.
A customer service representative will respond to your inquiry within 1 business day. If you're sending files through DES FTP transmission, simply send the reverse entry in a NACHA format. Digital Banking for business customers should contact Business Support, 866-FCB 4BIZ (866-322-4249).
As part of your ACH Agreement with First Citizens, you're required to stay abreast of industry changes. We recommend you become a member of your local ACH Regional Association (E Pay Resources on the east coast) or visit Nacha.org for ACH rules changes. Often, when changes occur that significantly affect your ability to originate your ACH file (payroll, taxes etc.), we'll notify you.
Yes. A Pre-note transaction may be submitted as a test. A Pre-note is a zero dollar transaction with unique transaction codes. Its intention is to verify both the transit routing and account number of a transaction. If either is incorrect, you'll be notified by a Return Resolution Report. It's recommended that you initiate a Pre-note transaction 3 days in advance of a live dollar transaction for first-time accounts.
Normal bank approval applies.
Links to third-party websites may have a privacy policy different from First Citizens Bank and may provide less security than this website. First Citizens Bank and its affiliates are not responsible for the products, services and content on any third-party website.
Bank deposit products are offered by First Citizens Bank. Member FDIC and an Equal Housing Lender. icon: sys-ehl.