Automated Payables
Automate your invoice and payment processing
Increase Efficiency
Eliminate manual checks and simplify electronic payments.
Reduce Costs
Reduce payment processing costs up to 60%.
Control Cash Flow
Control outgoing cash flow by ensuring payments reach vendors on time.
view demo
See how it works
Take a tour of how Automated Payables works.
Watch this video to learn how automated payables works
First Citizens Automated Payables is an accounts payable in payment automation solution for small business owners and middle market companies.
In the next two minutes we'll show you what a fully integrated AP platform using First Citizens Automated Payables looks like.
Automate your manual data entry with our invoice capture feature that automatically extracts data from vendor invoices.
You can take your AP process paperless and tap your vendors email invoices directly into the system for capture. Once an invoice is in the system, you can easily route it to the appropriate approver. If multiple approvals are required for high dollar invoices, you can set up hierarchical approvals based on the vendor or other invoice characteristics. Upon approval, the invoice can be synced back into your accounting system.
When you are ready to submit invoices for payment authorization simply select the ones you want to pay, make any adjustments to the payment amounts, schedule the payment date and click "Confirm payments". All you have to do next is review the payment details and your payment method, then press "Submit".
Whether sending a check paying electronically via ACH or using a credit card to pay vendors, you'll follow the same approval workflow.
First Citizens Automated Payables features controls such as segregated payment approval and check positive pay support that can help protect your business from fraud.
In the payment approver application you have full visibility into invoice and payment details as well as any supporting documentation. With a simple click you can approve payments wherever you are for processing or you can send them back for corrections.
Once your payment is approved, it is sent to your vendor directly from your bank accounts and remittance details are emailed to your vendor. Then, payments are posted back to your accounting system.
It's easy to automate your accounts payable process with First Citizens Automated Payables.
With this solution companies nationwide are improving their AP effectiveness experiencing cost savings and growing their businesses.
benefits
Your time is valuable
Early discounts
Optimize timing of payments to take advantage of early payment discounts.
Secure payments
Reduce risk with advanced payment security controls.
Enhance accounting
Improve internal accounting controls by implementing segregation of duties and dual approval.
Simplify the payment process
Add value to your company's financial health by simplifying the payment process.

Capture
Automatically extract invoice data, setup reviews and route for approval.

Approve
Create online workflows to route invoices for approval.
Authorize
Authorize invoices using existing cash management policies.
Execute
Streamline the payment process with one, secure interface.
Software
Work seamlessly
Automated Payables works seamlessly with many accounting packages—and we're always adding more.
Quickbooks® Desktop
Quickbooks Online
Microsoft Dynamics® GP
Intacct®
Netsuite®
Xero™
Connect with our Cash Management Services Team
Business Digital Banking
Manage your business on the go
Manage your accounts from anywhere
Send and transfer money using ACH and wires
Receive account and security alerts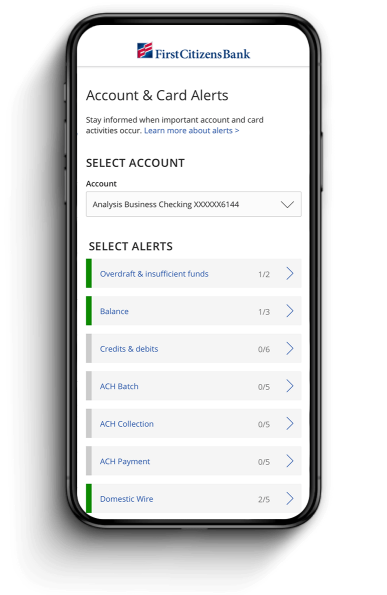 Business Digital Banking
Manage your business on the go
Manage your accounts from anywhere
Business Digital Banking
Manage your business on the go
Send and transfer money using ACH and wires
Business Digital Banking
Manage your business on the go
Receive account and security alerts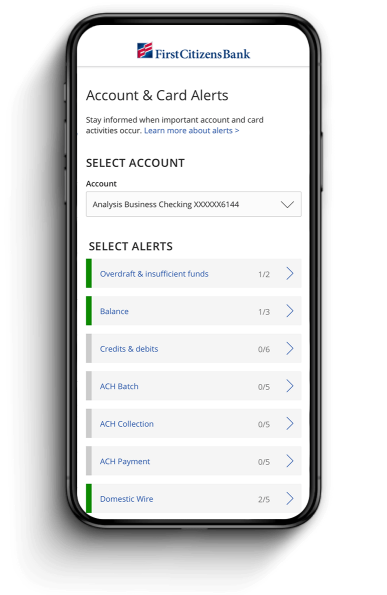 Deposit money from anywhere
Deposit checks remotely for faster processing and extended deposit hours.
Earn more from your business
Make business purchases count with bonus points.
No. Positive Pay is an optional service that can enhance your current risk management processes by examining checks for fraud. However, using Positive Pay as part of Automated Payables enables you to automatically have your check issue file become a part of the check register that we validate. If there are any checks that don't match the payee, dollar amount and date that you issued, we'll let you know through Commercial Advantage.
While business bill pay through Commercial Advantage is convenient, it doesn't provide invoice processing and full control over payments. Automated Payables provides a secure invoicing workflow with customized controls and segregation of duties to protect against fraud—all in one application.
If you have a First Citizens Visa Purchasing card, you can easily add card payments to the payments used with Automated Payables. A single-use card number is sent securely to your vendor to take the payment, and the transaction appears on your card statement. Visa can assist you in identifying and communicating with your vendors to get broader card acceptance.
Your vendor receives a secure email containing the card data needed to complete the payment. Once the transaction is completed, you'll see the transaction within Automated Payables service, on your card statements, and all rebates or rewards will apply. It's a great way to take advantage of card rewards within your account payable process.
Yes. Automated Payables has the ability to import and export .csv files. We're happy to show you how this process works.
Normal bank approval applies.
Links to third-party websites may have a privacy policy different from First Citizens Bank and may provide less security than this website. First Citizens Bank and its affiliates are not responsible for the products, services and content on any third-party website.
Bank deposit products are offered by First Citizens Bank. Member FDIC and an Equal Housing Lender. icon: sys-ehl.